a place to learn »
Pioneer Resources provides participants with a path to employment and greater independence. We believe that every person has the potential for employment and we support individuals in developing successful outcomes. We work with families, outside providers, and employers to provide a continuous transition to employment and ongoing skill development toward independence.
Job Placement Assistance
Individuals with an open case with Michigan Rehabilitative Services (MRS) can receive job placement assistance. We work with each individual to develop an Employment Plan with specific goals toward employment. As an agency, we are utilizing best practices and exploring various assessment and job readiness tools to prepare persons for their employment journey. Our Employment Specialists are ACRE Trained. Being ACRE trained means that our Employment Specialists have a foundation in employment services approved by our Association of Community Rehabilitation Educators. We take our participants through the discovery process to explore all of the positive traits to find that "best match" in a job. We provide an array of supports including:
Job placement
Job coaching
Resume Development
Job Readiness Workshops
Soft Skill Development
Social Skill Development
Customized Employment
On the Job Evaluations
Job Shadowing
We're committed to our individuals' success and work closely with participants, families, natural supports, and employers to ensure positive outcomes. For more information about Vocational Services contact Stacy Freed, Director of Programs.
Pre-Employment Transition Services
Pre Employment Transition Services (Pre-ETS) are services provided to youth ages 14–26 who are open with Michigan Rehabilitative Services (MRS). These services are designed to be an early start at job exploration to assist students with identifying career interests. Our ACRE-trained Youth Services Employment Specialist facilitates training and teaches concepts such as job exploration, work-based learning, post-secondary exploration, social skills, independent living, and self-advocacy.
Ignite your PATH to Employment
Ignite your PATH to Employment is a 4-day summer program offering students ages 16-26 the opportunity to learn the skills necessary to be successful in the workplace. Click the link below for more information.
Vocational Services Information
For information on our vocational services, contact us at programs@pioneerresources.org or 231.773.5355
Need a brochure? Print our tri-fold brochure below on standard (8.5×11) paper in landscape orientation, double sided, "flip on short edge". Need more than a few? Call us at 231.773.5355 and we'll get you what you need.
Vocational Services in Action
Jason's Story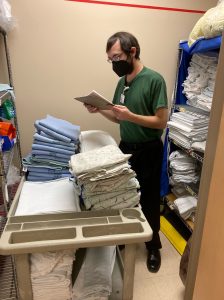 Jason started working at Trinity Health in Grand Haven in October of 2022. His job revolves around distributing all the linens to the various departments within the hospital, keeping track of the linen counts for ordering purposes and some janitorial work. This is a position that desperately needed a solid employee and Jason has stepped up to the plate. He works Monday through Friday and is dependable and reliable. During visits from our job development team, numerous hospital staff commented on how friendly and thorough Jason is. Jason takes his job very seriously and is detailed in his work, keeping track of the counts for all the linens so each department always has what they need. He also learned how to use the Harbor Transit to get to and from work and is one of the early riders as he starts his job at 6:30am each day!
Sarah's Story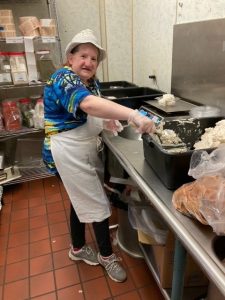 Sarah started working at Ryke's Bakery in August 2022 as a dishwasher as well as assisting in food prep. Sarah is loving her job at Ryke's and is excited about each shift. Chef Adam says she shows up to work in a great mood every day and stays busy the whole shift. When she performed a job shadow there, she impressed everyone by taking the initiative to do the tasks with little direction. Sarah is now in the process of learning how to use the local bus system so that she can get to work independently and hopefully work more shifts as time progresses and opportunities present themselves there. Sarah has an award-winning smile and attitude on life and is a pleasure to work with!
Gary's Story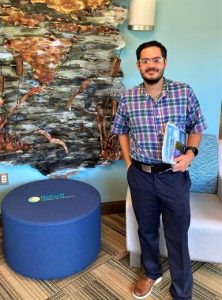 Gary came to Pioneer Resources seeking Job Placement services. As a talented writer and recent graduate from Eastern Michigan University Gary was hoping to pursue a career in journalism. Upon completing his initial interview at Pioneer Resources it was determined that he could benefit from Pioneer's Job Readiness Program. Throughout the 10 hour course Gary was able to identify and strengthen his skills, update his resume' to reflect a professional look, while spending considerable time practicing effective interview skills and personal presentation. Upon completion, he obtained an interview to do an On-The-Job Evaluation with the Muskegon Lakeshore Chamber of Commerce, producing interesting articles to better attract young adults to the Muskegon area. With Gary's opportunities and passion for the Muskegon community, we know that we'll be hearing more from him in the months and years to come! Check out some of Gary's work at https://www.muskegon.org/category/chamber-blog.
Jason, Sarah, and Gary, along with our other vocational services participants, were supported by our Vocational Training staff in job readiness skills, resume development, interview skills, job searching and applying, and placement. Once placed in their new positions, our participants receive on-the-job coaching until they are comfortable and confident in their new role and assigned tasks. We continue to provide follow-along support to discuss any challenges, concerns, or areas where they would like to grow and improve. Eventually, many of our participants reach a level of independence that no longer requires our support, but we are always here if they need us.