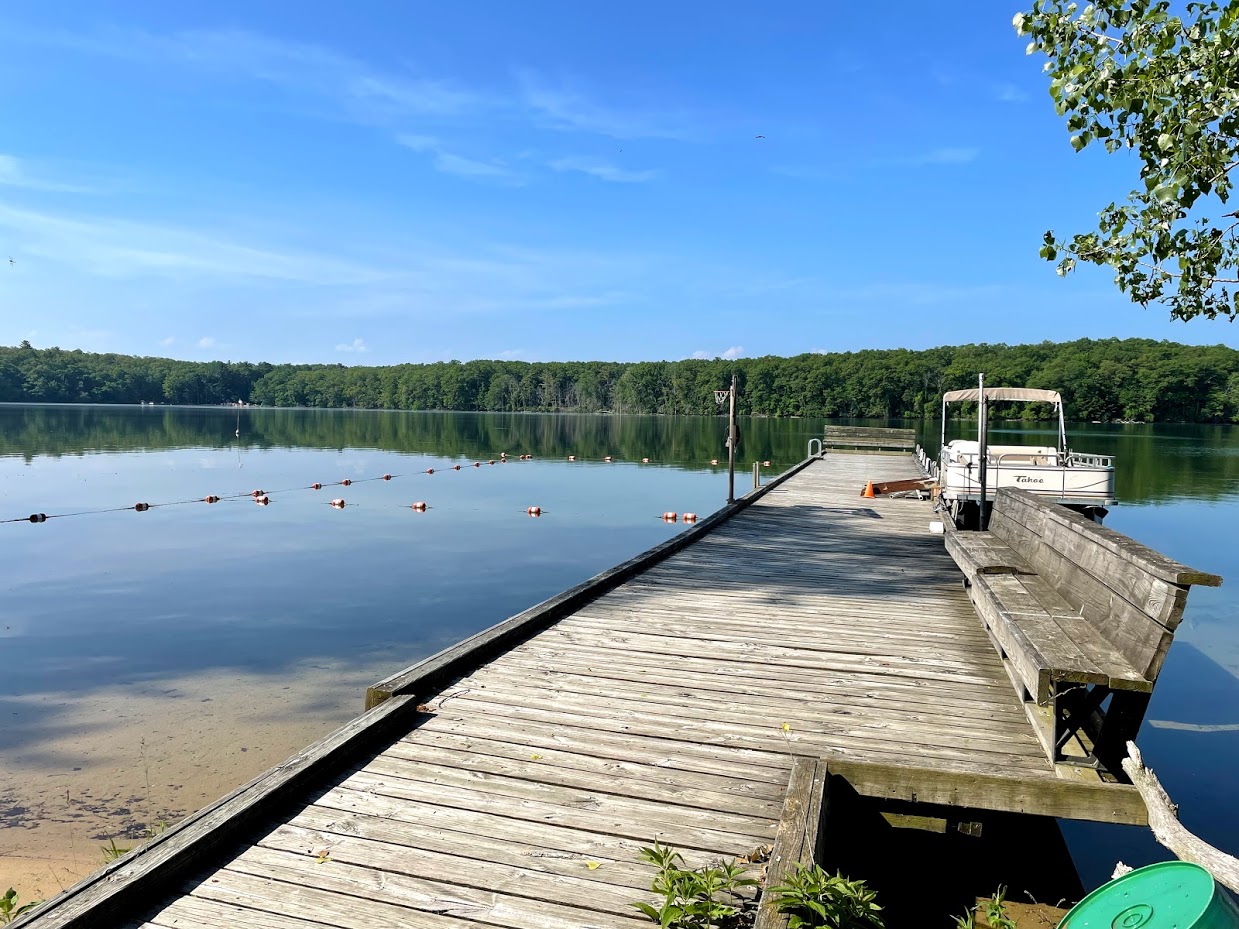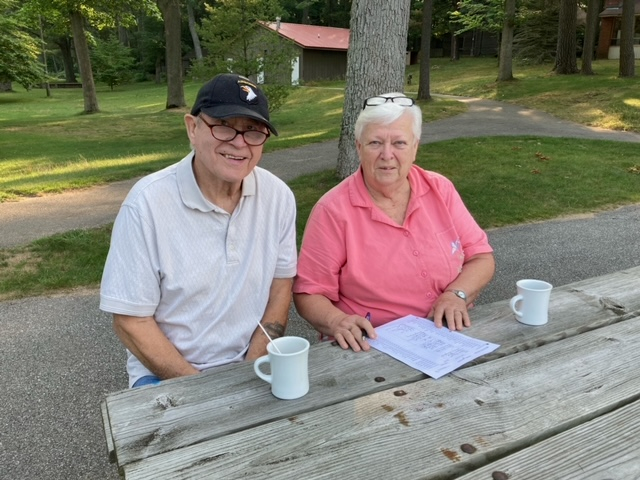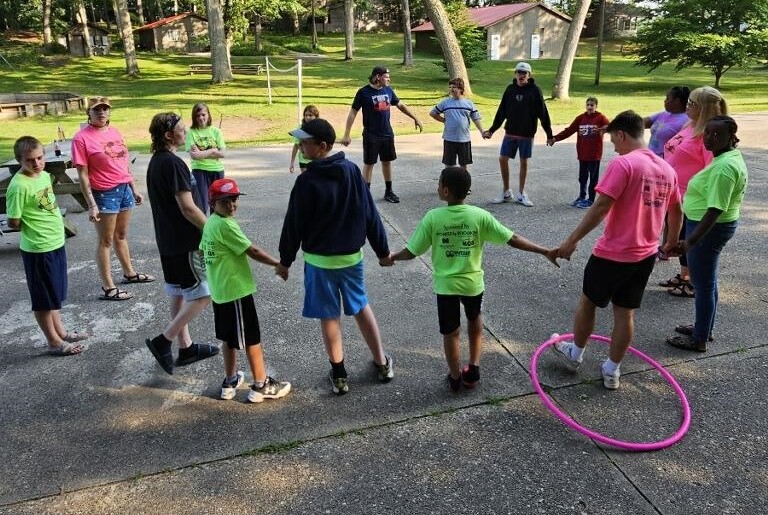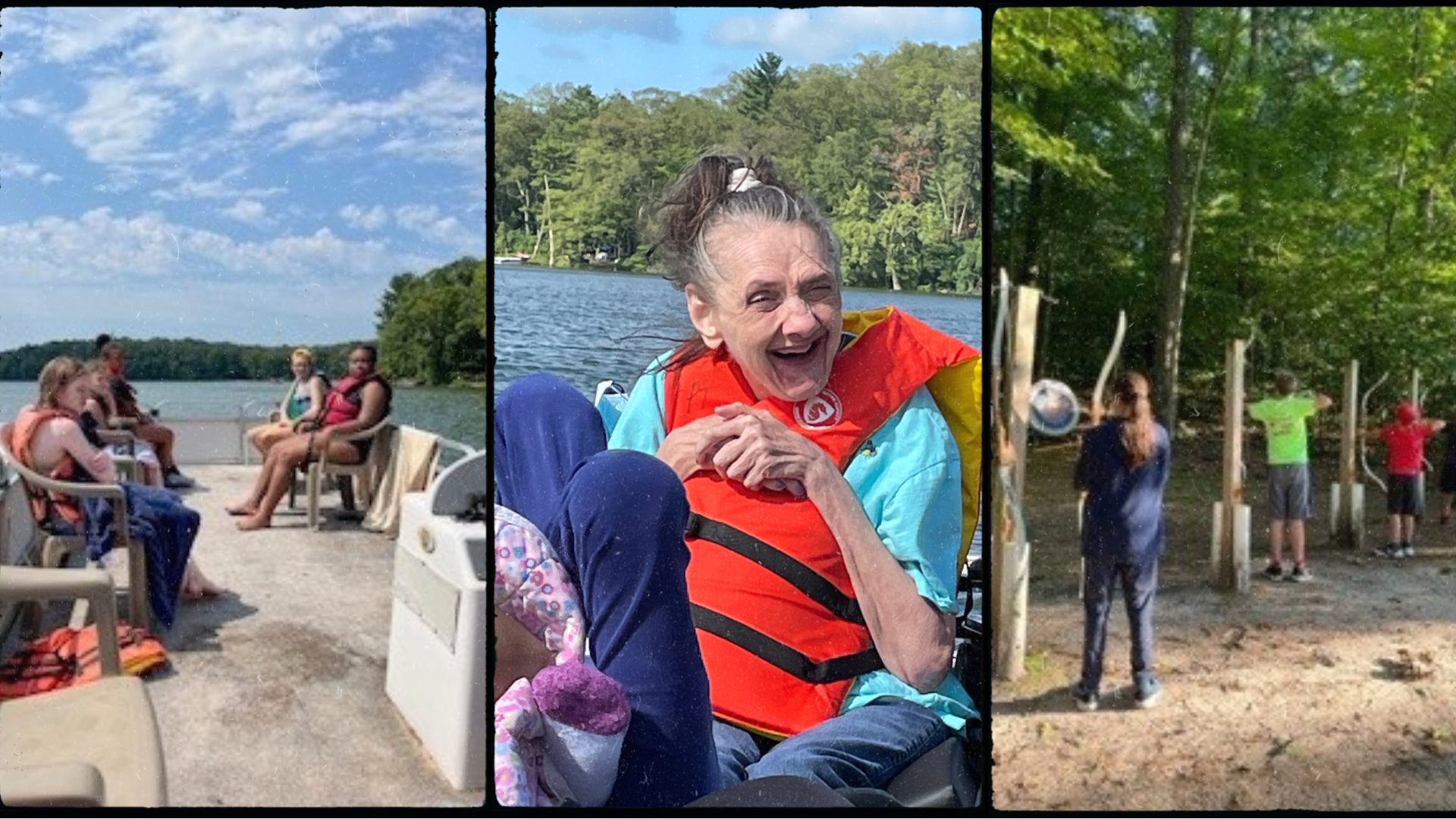 A Place to Grow and Play »
Community involvement, healthy lifestyles, and recreation are promoted by Pioneer Resources in several ways, including our beautiful camp on big Blue Lake! An exciting diversity of activities and camp programs happen at Pioneer Trails.
Located in northern Muskegon County, Pioneer Trails borders Blue Lake on the edge of the Manistee National Forest. The camp is rustic, yet has been uniquely designed to be barrier-free and offers a wonderful environment for fun and growth. Paved trails and gentle slopes make the woods, waterfront, and buildings accessible for people of all abilities.
Pioneer Trails Activities
Swimming
Fishing
Hiking
Team building
Archery
Canoeing
… And more
Available by Special Request
Use of a challenge course
Canoeing on the White River
Horseback riding
Host Site for Many Camps
Pioneer Trails is the host site for many camp programs serving various populations. Most of our own program participants and residents have the opportunity to experience camp each summer. This is a wonderful way to get outside and enjoy fun activities with friends!
For information on LARC camp, senior day camp, or other program-specific camps not listed below, please contact your program's manager or call us today to get connected.
Pioneer Trails also hosts outside organizations including Camp Bold Eagle and Camp Courage (see below). Other happy campers include sports camps, band camps, weddings, and reunions! Dates book up quickly, call us today for more information.
---
Pioneer Trails Day Camp
Pioneer Trails Day Camp packs fun and friendship into day camp days throughout the summer. These sessions are designed to serve children and young adults with intellectual or developmental disabilities and to provide respite for families and caregivers. To be eligible, campers must be between the ages of six and twenty-six and still attending school. Days and sessions vary from year to year, be sure to visit the Day Camp Page (button below) for the latest updates.
We regret to share that Pioneer Trails Day Camp for 2023 has been canceled.
---
Ignite Your PATH to Employment
Ignite your PATH to Employment is an 4-day program offering students ages 16-26 the opportunity to learn the various skills necessary to be successful in the workplace. This experience will focus on Work Readiness and Self-Advocacy Skills to launch their journey towards finding, and maintaining, employment. Students can participate in fun camp activities like swimming, pontoon boat rides, nightly camp fires, crafts, new friendships, and a surprise event the final night of camp! Following the week at Pioneer Trails, students get the opportunity to put their week-one learning into action by participating in paid summer work experiences for 6 weeks at various locations in our community.
---
Camp Connected
Camp Connected is designed to serve youth, ages 10-16 years old, that struggle with severe emotional disorders. This three-day, two-night camp focuses on social skills, team work and building self-confidence through the completion of obstacle courses and expectations of self-regulation. These objectives are met through various educational and fun activities throughout the weekend.
---
Camp Bold Eagle
Pioneer Trails is the host site for Camp Bold Eagle, a program of the Hemophilia Foundation of Michigan (HFM). Founded in 1969, Camp Bold Eagle is the oldest camp of its kind in the country serving children with hereditary bleeding disorders. Visit the Camp Bold Eagle page of HFM for information including camp dates and how to apply.
---
Camp Courage
For many years, Pioneer Trails has been the host site for this Harbor Hospice program. Any child who has experienced the death of a loved one can apply for Camp Courage. Planned activities help the children recall and preserve memories in a safe and secure environment. Visit the Camp Courage website for more information.
Location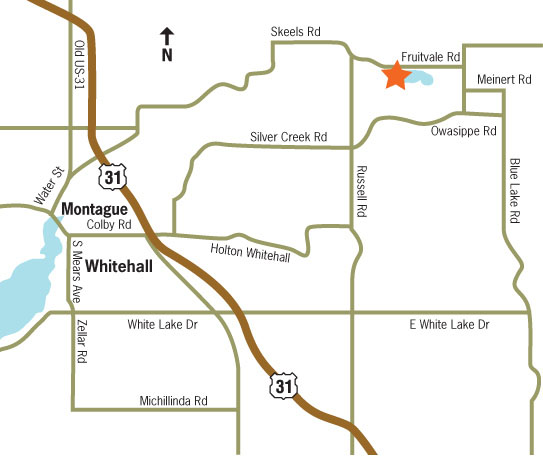 Pioneer Trails is approximately 17 miles from the city of Muskegon and 13 miles from Fremont. The address is 1421 East Fruitvale Road.
Information on Pioneer Trails
Call us today for more information at 231.773.5355 or email pioneertrails@pioneerresources.org
Print our tri-fold brochure below on standard (8.5×11) paper in landscape orientation, double sided, "flip on short edge". Need more than a few? Call us at 231.773.5355 and we'll get you what you need.
Your Support
Your contributions make a difference! Pioneer Trails is a division of Pioneer Resources, a tax-exempt charitable organization. View our Give Page to learn how you can invest in our efforts to bring an outdoor experience to people of all abilities.
Past Pioneer Trails Supporters
A special thank you to those who have generously supported Pioneer Trails in the past:
Muskegon Chapter Ambucs
Community Foundation for Muskegon County
MQB
Hot Rod Harley Davidson
WEBB Chemical
New Jerusalem Missionary Baptist Church
Living Life Church
Fremont Area Community Foundation
Muskegon Area Intermediate School District
The William Munroe Fund
The Richard and Dora Hain Fund
The Otta and Alma Seyferth Trust
The Freeman Foundation
Herman Miller